A side of the story of Jeffrey Epstein's creation and maintenance of a pedophilia ring and sex trafficking operation among the wealthiest, most famous, and most powerful Americans seems to have been forgotten. This is the fact that he was constantly surrounded with notable and influential members of the scientific community.
One scientist, who remained anonymous, told Slate about lavish parties Epstein would host at his Upper East Side apartment. These parties often mixed the scientists with individuals from the world of high fashion, including many young models. "Sometimes he'd turn to his left and ask some science-y questions," claimed the anonymous scientist, "Then he'd turn to his right and ask the model to show him her portfolio."
Epstein hosted this particular party in 2010, after he had been convicted for soliciting prostitution from a minor. In attendance was John Brockman, a literary agent who has represented Daniel Dennett, Richard Dawkins, and Jared Kahneman, among other scientists turned authors. According to Slate: "At one point, a young female staffer stepped into the room to give Epstein a massage, rubbing his neck as he talked and listened."

"I have only two interests," Epstein once said to a long time friend, "Science and pussy." Indeed, when Epstein convened a meeting of 21 physicists on his private island in 2006, he "was always followed by a group of something like three or four young women," according to one participant.
One of the physicists in attendance was none other than Stephen Hawking, who rode in a submarine specially modified by Epstein for Hawking. According to Epstein's LinkedIn, Hawking is among the many "well known luminaries" Epstein financially contributed to in his role as a "science philanthropist." Keep in mind that many of the legal documents produced in the course of Epstein's trials alleged that photos of naked girls decorated the walls of his property.

Professor Lawrence Krauss of Arizona State University, who organized the conference, has said that it, "wouldn't have happened if Epstein hadn't funded it" and that Epstein supported "some of the work at my institute." Krauss remained close with Epstein during and after he was sentenced to prison for his pedophilia. "As a scientist," Krauss told the Daily Beast in 2011, "I always judge things on empirical evidence and he always has women ages 19 to 23 around him, but I've never seen anything else, so as a scientist, my presumption is that whatever the problems were I would believe him over other people."

Earlier, in 2002, cognitive and computer scientist Marvin Minsky, held a similar conference on Little St, which dealt with the topic of artificial intelligence. Roger Schank, a neighbor of Epstein who is also a computer scientist, told Slate,  "Epstein walks into the conference with two girls on his arm," and proceeds to take them, "in the back, on a couch, hugging and kissing these girls." Schank at first insists that the girls were not underage, but when Slate reporter Daniel Engber presses him on how he could possibly know this, Schank backpedals. "How would I know?" Schank says, "I'm not saying that [underage girls] weren't there. What would I know? But we never saw them."

Other scientists in Epstein's orbit include paleontologist and evolutionary biologist Stephen Jay Gould, neurologist Oliver Sacks, MIT theoretical physicist Frank Wilczek and George M. Church, a molecular engineer who has done extensive research on how to manufacture a superior type of human being. Epstein's interest in Church stems from his own obsessions with eugenics and transhumanism. In June 2019, the New York Times reported that Epstein wished to impregnate large numbers of women at his New Mexico ranch in order to strengthen the human gene pool. The idea was inspired by the Repository for Germinal Choice which solicited Nobel laureates for their sperm. 
In 2011, a charity established by Epstein gave $20,000 to the World Transhumanist Association. This group, which now operates under the name Humanity Plus, states that its goal is "to deeply influence a new generation of thinkers who dare to envision humanity's next steps." According to the resume of Humanity+'s founder, Ben Goertzel, Epstein's foundation also gave $100,000 to pay Goertzel's salary.
The resume also reveals "contracts for natural language processing software development, from Object Sciences Corporation, largely via a contract vehicle funded through INSCOM (US Army intelligence)", a contract from the "US Air Force (AFOSR/AOARD) grant for research involving the use of AI agents in a 3D simulation world", and a contract from the intelligence community's version of DARPA the Intelligence Advanced Research Projects Activity (IARPA) for "work exploring the application of spatial, temporal and contextual inference for detecting patterns and resolving queries related to large, heterogeneous knowledge stores."

Alan Dershowitz, a member of the legal team which helped negotiate a "non-prosecution agreement" to rescue Epstein from prison in 2008, alleges that Epstein once steered a lunch conversation between the two of them toward the issue of improving human genetics. Dershowitz claims he was appalled due to the similarity of what Epstein was proposing to Nazi rhetoric used to justify the Holocaust. Apparently it didn't offend Dershowitz too much, as the two continued to work together. In fact, Dershowitz was named in court documents as one of the many men who participated in the rape of girls trapped by Epstein on Little St. James.

Epstein's embrace of transhumanism and eugenics was also overtly Malthusian. Cognitive psychologist Steven Pinker claims that while at a Harvard meetup of scientists Epstein was critical of projects meant to promote healthcare or feed the hungry, warning that this would lead to overpopulation. The fear of "overpopulation" has a long history among bourgeois eugencistists and is rooted in the logic of imperialism.
That is, the Western bourgeois has long considered the "developing world" to exist only as a source of extraction, whether that be of raw materials, cheap labor, or profits wrought through the opening of consumer markets in formerly untouched parts of the globe. In order to maintain this status quo, Western capitalists, particularly in the United States, made sure to keep the nations of the Third World and/or Global South in conditions of underdevelopment, perpetual indebtedness to global financial institutions such as the IMF and World Bank, and dependence on "aid" from Western governments and privately-owned, supranational organizations such as the Rockefeller Foundation, the Bill and Melinda Gates Foundation or the Clinton Foundation. Anxieties regarding overpopulation among the bourgeoisie stem from the need to perpetuate the consumer societies of the West so that the class hierarchy of capitalism can be maintained with as little conflict between the Western upper and lower classes as possible.

Often, those who think in terms of overpopulation emphasize the environmental impact of too many humans living upon the Earth. Again, this obscures the dynamics of imperialism and class which should be factored in when deciding who to blame for the ecological catastrophe. The poorest half of the global population, around 3.5 billion people, are responsible for only around 10% of global emissions. The majority of these people live in the countries most vulnerable to climate catastrophe.
Meanwhile, according to Oxfam, around 50% of global emissions stem from the richest 10% of the global population. The US military, which continues to wage endless, imperialist war across the Middle East and Africa, produces more greenhouse gas emissions than 140 of the worst polluting countries. Starting in 1912, right in the middle of a mass migration of Americans from rural to urban areas during the Second Industrial Revolution and then spiking significantly after the "Golden Age" of American capitalism from the end of World War 2 until the stagflation of the late 1970s, the USA as a whole became the largest emitter of greenhouse gases among Western nations. This can largely be seen as a result of the rapid growth in the postwar period of the American middle class and its corresponding consumer society. While the welfare state which birthed this middle class was cannibalized long ago, more people are entrenched in consumer culture than ever before, which has led to a record high energy consumption in the United States.
The Jeffrey Epsteins of the world and their acquaintances in the fields of science and technology are at the forefront of the most recent development in Western imperialism. Klaus Schwab of the World Economic Forum refers to this as the "Great Reset" which can more or less be defined as the utilization of current global crises, such as climate change and the COVID-19 pandemic, by a portion of the "liberal" or "progressive" Western bourgeoisie (represented by figures like Schwab, George Soros, Bill Gates, etc) to inaugurate a new era of capitalism wherein the supranational organs formed over the course of globalization no longer merely manage the affairs of the rich and powerful but come to replace the public sector wholesale.
In other words, the final integration of every aspect of human life into "the market", with NGOs, private foundations, private banks and borderless financial institutions, and monopolistic multinational corporations managing things which used to be the responsibility of national governments, such as healthcare and education, with governments remaining as little more than glorified human resources departments which exist to discipline anyone who isn't a fan of the new status quo. As Bill Gates has said:
"The closer you get to [government] and see how the sausage is made, the more you go, oh my God! These guys don't even actually know the budget. … The idea that all these people are going to vote and have an opinion about subjects that are increasingly complex—where what seems, you might think … the easy answer [is] not the real answer. It's a very interesting problem. Do democracies faced with these current problems do these things well?"
Recommendations Great Resetters have suggested to quicken the emergence of this autocratic but woke techno-capitalism include "good demand" an idea proposed by the CEO of Sompo Holdings, a top Japanese insurance company. Another, proposed by Schwab himself, is the idea of "Stakeholder Capitalism Metrics." Both models suggest that the ultra-wealthy who are invested in things such as green technology or renewable energy should set standards for Big Business to follow and then pressure governments to follow them. Only businesses which can afford such measures as implementing green energy will be rewarded for it while everyone else falls by the wayside.
The implications of this can be seen in an app currently being developed by We Don't Have Time, a non-profit which helped launch Greta Thunberg's public relations campaign. This app will allow users to rate corporations, brands, products, and much else regarding how it jives with climate change goals and "sustainable development" targets set by green capitalists. As Corey Morningstar points out:
"The not unintended results will be tenfold. The corporations with the best advertising executives and largest budgets will be the winners. Greenwashing will become an unprecedented method of advertising as will the art of "storytelling"…Adding to the conversation as to who is ultimately benefiting from this endeavor from a cultural, social, geographical and ethnic perspective is the fact that "subconscious biases about race or gender, is a proven problem on many crowdsourced platforms." [Source] Ultimately, this means that in order to acquire the needed support as a multimedia platform, the self-interest of the Western world must be at the fore with no concern for the Global South – other than what we can continue to steal from her."
As we have seen, the rise in US greenhouse emissions is inextricably linked with the larger impact on the world of the 1st, 2nd, and 3rd Industrial Revolutions. Despite his supposed concern for the environment, Klaus Schwab has proposed that the Great Reset will merely be a prelude to, or perhaps an acceleration of, what he calls The Fourth Industrial Revolution. "Fourth Industrial Revolution technologies are truly disruptive," Schwab says, "they upend existing ways of sensing, calculating, organizing, acting and delivering. They represent entirely new ways of creating value for organizations and citizens." In the Fourth Industrial Revolution "All things will be smart and connected to the Internet" and this will "give rise to ecosystems of value creation that are impossible to imagine with a mindset stuck in the third Industrial Revolution"

Schwab elaborates:

"Consider the unlimited possibilities of having billions of people connected by mobile devices, giving rise to unprecedented processing power, storage capabilities and knowledge access. Or think about the staggering confluence of emerging technology breakthroughs, covering wide-ranging fields such as artificial intelligence (AI), robotics, the internet of things (IoT), autonomous vehicles, 3D printing, nanotechnology, biotechnology, materials science, energy storage and quantum computing, to name a few. Many of these innovations are in their infancy, but they are already reaching an inflection point in their development as they build on and amplify each other in a fusion of technologies across the physical, digital and biological worlds."
In his Davos Manifesto, Schwab ties his "stakeholder capitalism" concept to the Fourth Industrial Revolution, saying:

"A company serves society at large through its activities, supports the communities in which it works, and pays its fair share of taxes. It ensures the safe, ethical and efficient use of data. It acts as a steward of the environmental and material universe for future generations. It consciously protects our biosphere and champions a circular, shared and regenerative economy. It continuously expands the frontiers of knowledge, innovation and technology to improve people's well-being."
To "continuously expand" technology requires the opening up of markets which are either closed or semi-closed to Western tech monopolies. We can see this in the coup and counter-coup which has taken place in Bolivia over the last year.

Bolivia has several deals with China regarding its lithium reserves. Lithium, sometimes called "white petroleum," is an important component of an electric car's battery. According to Forbes, "By the year 2025, lithium demand is expected to increase to approximately 1.3 million metric tons of LCE (lithium carbonate equivalent) – over five times today's levels." Among the many firms that are in desperate need of this lithium for their future projects is Tesla, a micro-monopoly in the growing electric car market. While it isn't likely, as some have claimed, that Tesla CEO Elon Musk was personally behind the coup, there is ample evidence to suggest that it was supported by the US ruling class generally. And regardless of his involvement or lack of it, Musk's response to such accusations is revealing of the way which the Silicon Valley elite, a group which arguably stands to gain the most from the "Fourth Industrial Revolution," perceive their role in the world: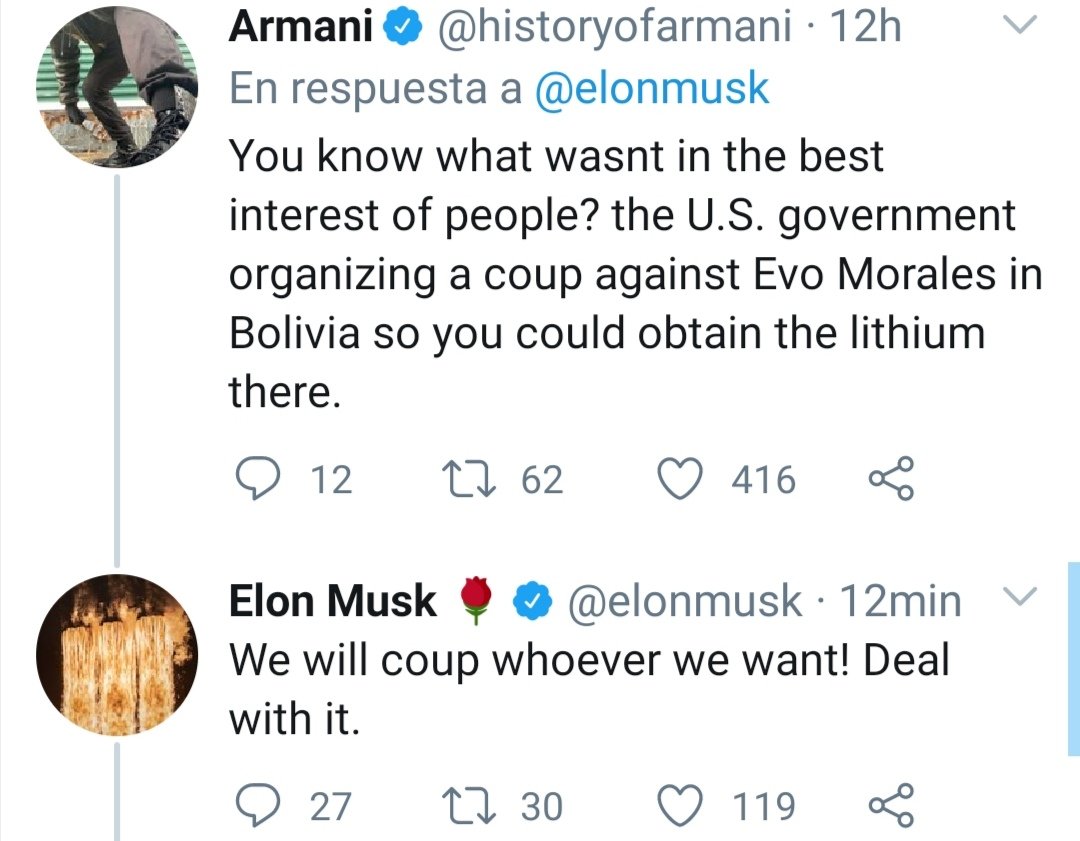 This attitude is also reflected in the World Economic Forum's infamous slogan regarding the future for workers around the world: "You will own nothing and be happy."
The Great Reset is going to happen whether you like it or not and you're going to have to just take it, particularly if you live outside the imperial core. Indeed, this Reset will be entirely dependent upon further pillaging of the current vassals of US empire and attempting to create new ones out of the few countries that still resist integration into the commodity circuits of Western capital, such as Cuba, Iran, the DPRK, Venezuela, Bolivia, and so on.
This paints a portrait of a Western ruling class which, over the next several decades, will exponentially inundate their populations and the populations of their fiefdoms with technology that breaks down the barriers between man and machine, between the virtual or synthetic and the organic while the workers on the periphery suffer the worst impacts of climate change. At the same time, this ruling class will build temples to themselves in remote areas or in expensive bunkers, where they can indulge in the same rotten hedonism as they always have, as Epstein, Weinstein, Spacey and many others did, except with even more impunity.

A future in which humans can constantly personalize their bodies and minds through deeper and deeper submersion into increasingly refined forms of consumer technology is the transhumanist dream. Those who can't afford a place in this future will simply be considered too weak to participate in it and be left to die accordingly. Compare one final statement by Schwab to Epstein's ambitions:

"Fourth Industrial Revolution technologies will not stop at becoming part of the physical world around us—they will become part of us. Indeed, some of us already feel that our smartphones have become an extension of ourselves. Today's external devices—from wearable computers to virtual reality headsets—will almost certainly become implantable in our bodies and brains. Exoskeletons and prosthetics will increase our physical power, while advances in neurotechnology enhance our cognitive abilities. We will become better able to manipulate our own genes, and those of our children."

In 2020, musician (and wife of Elon Musk) Grimes released her fifth studio album, Miss Anthropocene. The albums title is a cynical play on words, referencing both the age wherein human activity is the dominant force in climate and environmental trends and also the angry, empty, nihilistic thrust of culture across the globe captured in recent films like Joker. It also references the concept album's central character, who is , in Grimes words, an, "anthropomorphic Goddess of climate Change: A psychedelic, space-dwelling demon/ beauty-Queen who relishes the end of the world."

The album has a notably different sound than the airy, pixie-girl vibe of Grimes early records. Miss Anthropocene instead incorporates (quite poorly in this author's opinion) the sounds of industrial music and nu-metal.
In 2018 Grimes released a single playing around with this sound titled We Appreciate Power. If this sounds vaguely fascist, that's because it is. When placed in the context of Miss Anthropocene's romantic depiction of climate apocalypse and the "Fuck you, pay me" tone of Grimes billionaire husband in response to accusations of imperial plunder, along with the knowledge that the most exploited countries will suffer the most during "the end of the world" and the techno-dystopian visions of some of the wealthiest and most powerful people on the planet, this otherwise forgettable attempt at a Nine Inch Nails tribute becomes downright sinister. What we are seeing with Grimes new sound is a saying of the quiet part loud.

To play us out, I've posted the lyrics to We Appreciate Power in full, with the particularly spooky lines in bold:
"We appreciate power
We appreciate power
We appreciate power, power
What will it take to make you capitulate?
We appreciate power
We appreciate power
I'll evade the human race, putting makeup on my face
We appreciate power
We appreciate power, power
Simulation, give me something good
God's creation, so misunderstood
Pray to the divinity, the keeper of the key
One day everyone will believe
What will it take to make you capitulate?
We appreciate power
We appreciate power
When will the State agree to cooperate?
We appreciate power
We appreciate power, power
People like to say that we're insane
But AI will reward us when it reigns
Pledge allegiance to the world's most powerful computer
Simulation is the future
What will it take to make you capitulate?
We appreciate power
We appreciate power
I'll evade the human race, putting makeup on my face
We appreciate power
We appreciate power, power
And if you long to never die
Baby, plug in, upload your mind
Come on, you're not even alive
If you're not backed up on a drive
And if you long to never die
Baby, plug in, upload your mind
Come on, you're not even alive
If you're not backed up, backed up on a drive
What will it take to make you capitulate?
We appreciate power
We appreciate power
I'll evade the human race, putting makeup on my face
We appreciate power
We appreciate power, power
What will it take to make you capitulate?
We appreciate power
We appreciate power
When will the State agree to cooperate?
We appreciate power
We appreciate power
We appreciate power
We appreciate power
We appreciate power
We appreciate power
We appreciate power
We appreciate power
We appreciate power
We appreciate power
Neanderthal to human being
Evolution, kill the gene
Biology is superficial
Intelligence is artificial

Submit
Submit
Submit
Submit
Submit
Submit
Submit
Submit"